I Am Enough (Compact Disc)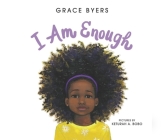 This item is not available for sale on this site.
Description
---
We are all here for a purpose. We are more than enough. We just need to believe it.' This gorgeous, lyrical ode to loving who you are, respecting others, and being kind to one another was designed by actor and activist Grace Byers to empower girls against the effects of bullying.