Where in the Wild?: Camouflaged Creatures Concealed... and Revealed (Paperback)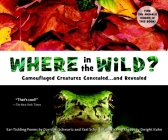 $8.99
Email or call for price.
Description
---
Ten creatures await, camouflaged in artful, full-page photographs, while playful poems offer clues about each animal's identity and whereabouts. Think you've spotted one? Lift one of ten gatefolds to find out. A full page of fascinating information accompanies each animal so readers can learn how nature's camouflage serves hunter and hunted alike. Why do fawns have spots during their first year of life? How did killdeer birds get their name? What makes a crab spider so good at ambushing its prey?



Recipient of the 2008 American Association for the Advancement of Science/Subaru Science Book and Films Prize for Excellence in Science Books.

Named a 2008 Outstanding Science Trade Books for Students K-12 by the National Science Teachers Association (NSTA) and the Children's Book Council (CBC)

Editor's Choice, 2007— Booklist magazine

Listed in "Lasting Connections of 2007," an annual roundup of the year's best books to tie into curriculum.
-Book Links magazine
About the Author
---
DAVID SCHWARTZ has written more than 50 children's books, including What in the Wild?, Where Else in the Wild?, How Much Is a Million?, G Is for Googol, and Q Is for Quark. He gives author presentations at schools and conferences all over the world, channeling the energy and humor found in his books to make math and science come alive for kids and educators.

YAEL SCHY has written poems and songs since childhood. She is a dancer and improvisational theater actor.

DWIGHT KUHN's beautifully composed nature photographs have been featured in 125 children's books. His work has been recognized by the Children's Book Council, Scientific American, and the John Burroughs Association. He lives with his wife and two dogs in Dexter, Maine.
Praise For…
---
2007 Editor's Choice, Booklist
2008 John Burroughs List of Nature Books for Young Readers
2008 Animal Behavior Society Outstanding Children's Book Award
2008 Outstanding Science Trade Book for Children, Selector's Choice, National Science Teachers of America / Children's Book Council
2008 SB&F Prize for Excellence in Science Books, sponsored by Subaru and the American Association for the Advancement of Science


Review, New York Times Book Review:
"That's cool!"

Review, New York Times:
"Schwartz and Schy's vibrant book, with its passion for discovery, seems...likely to inspire young readers."

Review, School Library Journal:
"The combination of poetry, beautiful photography, and clear factual explanation is executed in all of its parts with economy and skill."

Review, Booklist:
"This book will intrigue and challenge children, whether they find it individually or in a classroom setting."