Amah Faraway (Hardcover)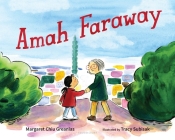 $18.99

Coming From our Warehouse. Usually Ships in 1-5 Days
Description
---
Acclaim for Amah Faraway: A 2022 Caliba Golden Poppy Award Finalist for Mirrors & Windows: Excellence in Children's Literature | A 2023 Bank Street Best Children's Books of the Year Selection | A Junior Library Guild Selection | A 2023 Crystal Kite Finalist (California)

A delightful story of a child's visit to a grandmother and home far away, and of how families connect and love across distance, language and cultures.

Kylie is nervous about visiting her grandmother—her Amah—who lives SO FAR AWAY. In Taipei, Kylie is shy with Amah. Even though they have spent time together in video chats, those aren't the same as real life. And Kylie is at first uncomfortable with the less-familiar language, customs, culture and food. However, after she plays and splashes in the hot springs (which aren't that different from pools at home), Kylie begins to see this place through her grandmother's eyes and sees a new side of things that used to scare her. Soon, Kylie is leading her Amah back through all her favorite places and having SO MUCH FUN! And when it is time to go home, the video chats will be extra special until they can visit faraway again.

Backmatter includes author and illustrator notes and a guide to some of the places and foods explored in Taiwan.
About the Author
---
Tracy Subisak was known for running around the school yard as a wild horse in the second grade. She is an illustrator and designer living in Portland, Oregon. Shawn Loves Sharks is her first picture book for Roaring Brook Press.
Praise For…
---
"A heartfelt homage to her Taiwanese heritage that binds multiple generations on either side of the globe. . . . Margaret Chiu Greanias and Tracy Subisak delightfully, inventively present a hesitant child's transformative reunion with her Taiwanese grandmother on the other side of the world." - Shelf Awareness, starred review

"Subisak's watercolor, pencil, and ink illustrations lovingly show details from Taiwanese life and culture. Ranging from multiple vignettes per page to full spreads, they possess an almost cinematic storyboard quality while supporting the mirrored narrative symmetry that has the hot spring visit as its midpoint. . . . This is a poignantly emotional and highly relatable story for children whose grandparents or other family members might live far away, but also one that teaches universal lessons about overcoming fears of the unfamiliar." —School Library Journal, starred review

"An au courant portrayal of a transnational childhood." —Kirkus Reviews

"A sympathetic portrayal of long-distance family ties." —Booklist

"Encouraging openness toward new experiences amid a centering of one child's diasporic shift in cultural perception, this contemporary tale tenderly spotlights the strengthening of an intergenerational relationship." —Publishers Weekly