Wait and See (Hardcover)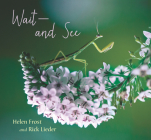 $17.99

Coming From our Warehouse. Usually Ships in 1-5 Days
Description
---
Longtime collaborators Helen Frost and Rick Lieder team up for a breathtakingly beautiful glimpse at the praying mantis—and entice us to take the time to open our eyes to the world in front of us.

The creators of Step Gently Out and many other acclaimed picture books join forces again to look closely at an iconic insect through lyric words and stunning nature photography. When you are outside, if a small quick movement takes you by surprise, stop and look—move nothing but your eyes. Could it be a praying mantis, trying not to be seen? This sixth stunning collaboration between Helen Frost and Rick Lieder urges young readers into the wild outdoors, inviting them to "wait and see" what wonders patient observation has in store.
About the Author
---
Helen Frost is the author of four previous books illustrated with Rick Lieder's nature photography: Step Gently Out, Sweep Up the Sun, Among a Thousand Fireflies, Wake Up!, and Hello, I'm Here! She is also the author of the middle-grade novel in poems Applesauce Weather as well as several other novels in verse for young adults. Her books have received many awards and honors. She lives in Fort Wayne, Indiana.

Rick Lieder has collaborated with Helen Frost on five previous picture books. He is an artist and nature photographer whose work has appeared on the National Geographic Channel. He lives with his wife, writer Kathe Koja, in Michigan.
Praise For…
---
Invites readers to sharpen their observation skills. . . Children will undoubtedly feel compelled to make up fun stories for these personality-filled creepy-crawlies. . . . A reminder of the wonders we can see in nature if we slow down and pay attention.

—Kirkus Reviews

Amazing detail of the plants—showing petals and pistons—and photographs of the praying mantis combined with rhythmic text will draw readers in. . . . A strong first purchase.
—School Library Journal

Between Frost's advice ("Be still and quiet, / watching") and Lieder's photographs, children may be able to start spotting the alien-looking yet beautiful creatures in the wild.
—The Horn Book

The tone of the poem is one of wonder and mindfulness. . . . Kids fascinated by backyard wildlife will appreciate this lyrical offering, which will work well in both poetry units and early science classes.
—Booklist

The photographs in 'Wait - and See' are stunning, clear and close-up, lingering on the alien eyes and powerful legs of the praying mantis. This ode to the strange creature - told in a book-length poem - is an invitation to step outside and let curiosity be your guide.
—The Virginian Pilot

Helen Frost's spare poetry is paired beautifully with the spectacular closeup photography of Rick Lieder in this gorgeous book revealing the hidden world of the praying mantis.
—The Buffalo News