The Adventures of Chupacabra Charlie (Latinographix) (Paperback)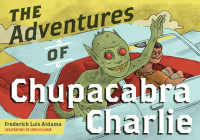 Description
---
In their debut picture book, Frederick Luis Aldama and Chris Escobar invite young readers along on the adventures of Chupacabra Charlie, a polite, handsome, and unusually tall ten-year-old chupacabra yearning for adventure beyond the edge of los Estados Unidos. Little does Charlie know when he befriends a young human, Lupe, that together, with only some leftover bacon quesadillas and a few cans of Jumex, they might just encounter more adventure than they can handle. Along the way, they meet strange people and terrifying danger, and their bravery will be put to the test. Thankfully, Charlie is a reassuring and winsome companion who never doubts that he and Lupe will return safely home. 
With magical realism, allegory, and gentle humor, Aldama and Escobar have created a story that will resonate with young and old readers alike as it incorporates folklore into its subtle take on the current humanitarian crisis at the border.
 
About the Author
---
Frederick Luis Aldama is Irish-Guatemalan and Mexican Latinx. His mamá was a bilingual elementary school teacher in California. As a kid, he couldn't get enough of his abuelita's stories of El Chupacabra, La Llorona, and El Cucuy. Today he is Distinguished University Professor at The Ohio State University. He is the author, coauthor, editor, and coeditor of 36 books.

Chris Escobar is a printmaker and cartoonist currently living in Savannah, Georgia. He has an MFA in Sequential Art from the Savannah College of Art and Design. Chris has created illustrations for the comic anthology Floating Head and editorial illustrations for Dirt Rag magazine, among other publications.
 
Praise For…
---
"The adventure Charlie and Lupe embark on is a timely and courageous one as it addresses the migration crisis on the border and the imprisonment of children." —Kirkus Reviews

"A breathtaking story that inspires us with the help of a chupacabra and a little girl to care for those who have sacrificed everything!" — Raúl the Third, author/illustrator and winner of the Pura Belpré Award 

"Author, parent, and appreciator of great art: I LOVE this book. Fantastically imaginative, poignant, and artful, this is a story that resonates beyond the adventure of Chupacabra Charlie. It's about us Latinxs, our struggles, and our dreams—and the will within us to achieve them. A must for our children, us adults, and all our libraries." —Daniel Chacón, author of Kafka in a Skirt and Hotel Juárez 

"A riveting adventure where a human and a Chupacabra join forces to free the niños held by the Big People in Green." —Norma Elia Cantú, author recently of Meditación Fronteriza