Look Up!: Bird-Watching in Your Own Backyard (Paperback)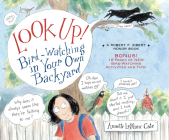 $8.99

Coming From our Warehouse. Usually Ships in 1-5 Days
Description
---
A 2014 Robert F. Sibert Honor Book

You don't have to own binoculars and know a bunch of fancy Latin names to watch birds! No matter where you live, they're in your neighborhood — just look up.

This conversational, humorous introduction to bird-watching encourages kids to get outdoors with a sketchbook and really look around. Quirky full-color illustrations portray dozens of birds chatting about their distinctive characteristics, including color, shape, plumage, and beak and foot types, while tongue-in-cheek cartoons feature banter between birds, characters, and the reader ("Here I am, the noble spruce grouse. In a spruce grove. Eatin' some spruce. Yep."). Interactive and enjoyable tips bring an age-old hobby to new life for the next generation of bird-watchers.
Back matter includes a bibliography, an index, and bird-watching tips.
About the Author
---
Annette LeBlanc Cate is the author-illustrator of The Magic Rabbit. She's been watching and drawing birds for many years, and she loves pointing out funny stuff about them. She lives in Massachusetts with her husband and two sons.
Praise For…
---
A chatty, appealing introduction to observing these easiest-to-see of all wild creatures...Small and accessible, this is jam-packed with accurate information likely to increase any potential birder's enthusiasm and knowledge.
—Kirkus Reviews (starred review)

[Cate's] desire to share this passion with a new generation of nature enthusiasts shines through in this delightful and thoroughly detailed introduction to the hobby (some might say addiction) of birdwatching.
—The Horn Book (starred review)

An array of talkative cartoon birds bring energy and humor to this small-format guide to bird-watching...Cate's informal hobbyist tone and all-around enthusiasm is infectious, as she emphasizes that bird-watching is as much about being aware of one's environment as it is about identifying specific birds.
—Publishers Weekly (starred review)

With its emphasis on looking at the birds near home–from suburbs to inner cities–this invitation to bird-watching is an engaging addition to any collection...Lots of fun–and informative.
—School Library Journal (starred review)

In this amiable guidebook that encourages readers to observe and wonder about the birds around them, Cate presents plenty of relevant information while sharing her clear enthusiasm for the subject...This title will engage readers with its well-presented information spiced with visual and verbal humor.
—Booklist

Cate supplements her instructive and encouraging remarks with cartoon-style illustrations that include plenty of additional speech-balloon commentary from the birds themselves. Not everyone can pull off the kibitzing-animal shtick, but the avian chorus is genuinely funny, and their banter goes a long way toward driving the lessons home.
—Bulletin of the Center for Children's Books

If readers approach the subject the way Cate approaches it, bird-watching can be a fun activity for artists of any age.
—Library Media Connection

LOOK UP! BIRD-WATCHING IN YOUR OWN BACKYARD…a lively, informal guide for children ages 8 and older that is jammed with fun and colorful drawings. Annette LeBlanc Cate has arranged her information in a way that is immensely helpful to the amateur.
—The Wall Street Journal

Annette LeBlanc Cate mashes up nonfiction, a picture book, and a comic to create something fresh, engaging, and – this is the most impressive point – something that might inspire readers to pick up a notepad and look skyward. An excellent book for budding ornithologists and for those who have no idea what that means...Informative and entertaining, this is a book that I hope finds its way into the hands of a lot of young readers.
—100 Scope Notes

The greatest part of this activity is that all you really need to do is what the title of this book says. Go outside and look up. ... This book — told with funny, bright, cartoon illustrations — is filled with amazing facts.
—The Washington Post

The book is full of interesting information and is laid-out in a kid-friendly fashion from the inside covers to the very end and you'll be enriched with mounds of interesting information in a most entertaining way.
—Newton's Book News